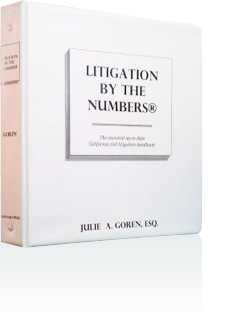 Litigation By The Numbers® is used by people in the legal field, wanting to enter the legal field, and those dragged into the legal field. Customers include new and experienced lawyers, paralegals, legal secretaries, law students, paralegal students, legal secretary trainees, pro pers, professionals relocating from other states, and more.
How could a single California law book be used by everyone involved in the process? Find out by watching our short video or clicking on the specific link of interest to you below.
Please don't delay your order until you MUST have it; we ship quickly, but we can't get it to you by YESTERDAY!