Testimonials from Self-Represented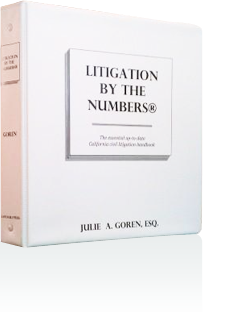 "I want to, once again, thank you for LBTN. It has literally changed our life. We represented ourselves in a lawsuit.  With the guidance of LBTN, we were able to navigate through the legal system with relative ease, reaching a favorable settlement right after the mandatory settlement conference.  THANK YOU!"
Suzenna Kredenser, Peter Kredenser, Inc.
With no knowledge of the law, I was trying on my own from Louisiana to enter a sister state judgment in California.  I did a lot of research on the internet, but none of the websites I found give instructions or information as to what forms to use.  Once I bought a copy of LBTN, I have been able to find each form, with all of the step by step instructions necessary to do everything I need to do concerning my case.  I wish I would have found this book from the beginning.  It would have been a lot easier for me!"
Liz, Baton Rouge, Louisiana
"I can't imagine being in the judgment recovery business without a copy of LBTN.  Before I received LBTN I basically learned by trial and error.  We all know how difficult the courts can be when it comes to perfection.  I now feel confident having LBTN at my side and not having to depend on others. I highly recommend this book."
Barbara Bottoms, Judicial Recovery Specialists
"Litigation By The Numbers® is a serviceable companion to self-help books. The line-item text format easily guides self-represented litigants along in a direct and concise manner.  The vocabulary lists and glossary are wonderful tools to build confidence in understanding and navigating the legal process.  Overall, a great resource for the self-represented litigant!"
San Mateo County Law Librarian
We offer a 100% money back guarantee.